Over the last 24 hours, we have been actively monitoring the multiple media reports coming out of Libya indicating that Internet and telephone connectivity had been shut down in the city of Derna. The city was at the center of the deadly rainfall and floods that affected the country since 10 September. The flooding and the failures of dams led to thousands of deaths and by some reports over 10,000 people still missing.
Protests have erupted as people are demanding answers related to why the flooding was so catastrophic. Reports indicate that communications are being cut and authorities are ordering journalists to leave the area.
Unfortunately, we at Pulse have not been able to verify this shutdown through our Internet measurement partners (Cloudflare Radar, Google's Transparency Report, IODA, OONI's Measurement Aggregation Toolkit), most likely due to the fact that the shutdown or service blocking may be extremely localized to only the city of Derna.
Official government reports from the Libyan Post Telecommunications & Information Technology Company (LPTIC) indicated first that a cut to fiber optic cables resulted in a loss of communication services in the eastern region of Libya, and then later that those communication services were restored.
If we look at the BGP activity for Libya since 3 September (Figure 2), these (or any) outages during this time seem to have been minor and restored.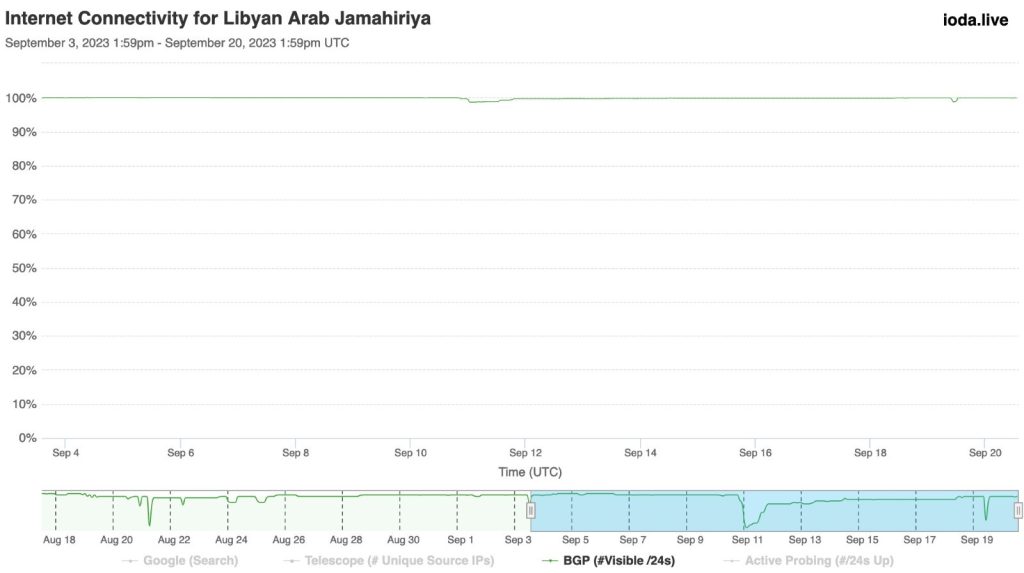 However, we are still seeing multiple reports on social media that Internet communications are being blocked and that some users are unable to access Internet services.
It may be that Internet service providers in the region have been ordered to block specific sites or services. It is very difficult to independently verify service blocking applied to a very small region.
We will continue to monitor the situation and if we are able to verify that there is a government-mandated Internet shutdown happening, we will publish a shutdown incident page.
Libya ranks 29th for Internet Resilience in Africa
The fact that Libya's Internet has been able to hold up during this critical time is worth noting, given its resilience ranks among the lowest 50% in Africa.
If we look at its Internet Resilience Index profile (Figure 3) we can see that it has particularly poor infrastructure and performance.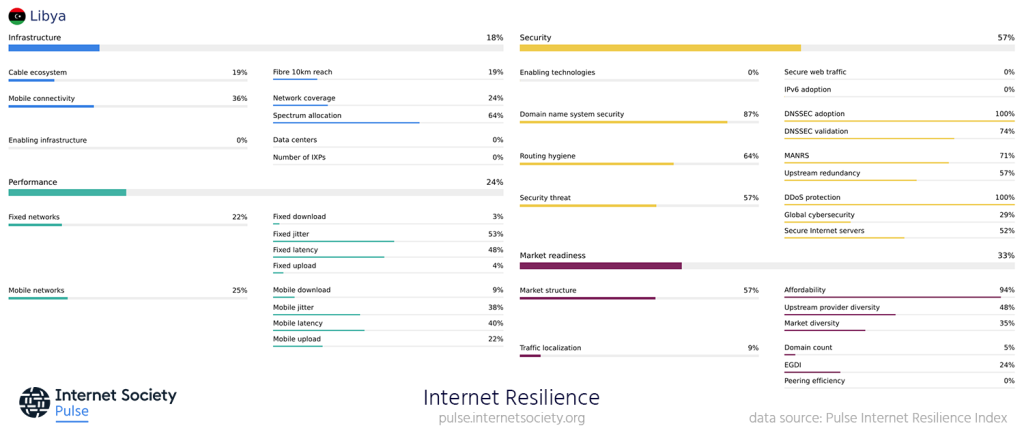 A particularly worrying issue is its low market diversification and lack of Internet Exchange Points (IXP), which are particularly useful for rerouting information more efficiently and affordably when there is an Internet outage.
If we look at the Pulse Country Report for Libya, we can also see that it has a very poor score for Transit Provider Diversity. This means it is reliant on only a few international transit providers to supply Internet connectivity to the country. This scenario adds further weight to the need for IXPs given that when one or all of these international links fails, local traffic can still flow.
The Internet Is Critical For Disaster Recovery
Internet connectivity is critical for communication during the recovery from disasters such as these devastating floods. Rescue teams and volunteer groups rely on Internet connectivity to coordinate their work. Businesses and organizations rely on Internet access to begin their recovery. People in all parts of society need Internet access to communicate with family and friends around the world.
It can be tempting for government authorities to shut down or restrict Internet access to attempt to control the flow of information, particularly when citizens are questioning the government's role in the disaster.
We hope for the people of Derna and the larger region of Libya that the government there will #KeepItOn and allow the free flow of information so that rescue and recovery can happen as quickly as possible.
---
Image credit: OpenStreetMap view of eastern Libya with the region of Derna outlined in red.