Next week, the Internet Society Pulse team will be attending the RightsCon Summit in San José, Costa Rica, to present our Internet shutdown and resilience work.
As the world's leading summit on human rights in the digital age, RightsCon offers a platform to engage with a broad range of decision-makers and partners advocating to grow and make the Internet stronger.
The host country has been a major supporter of these causes in recent years, with Freedom House ranking Costa Rica as having the strongest environment for Internet freedom in Latin America and the third best in the world. In 2010, the country's Supreme Court declared access to the Internet a fundamental right, which the government must guarantee and promote, and since such time Internet penetration in Costa Rica has jumped from 36.5 percent to over 80%.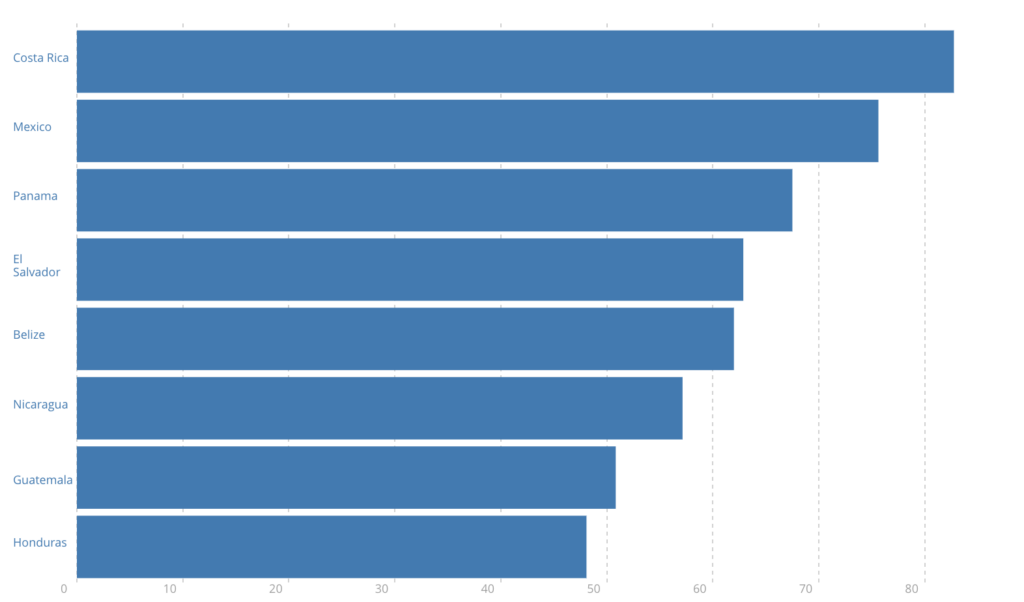 Looking at its Internet Resilience Index score, it's no surprise it also leads its Central American and South American neighbors.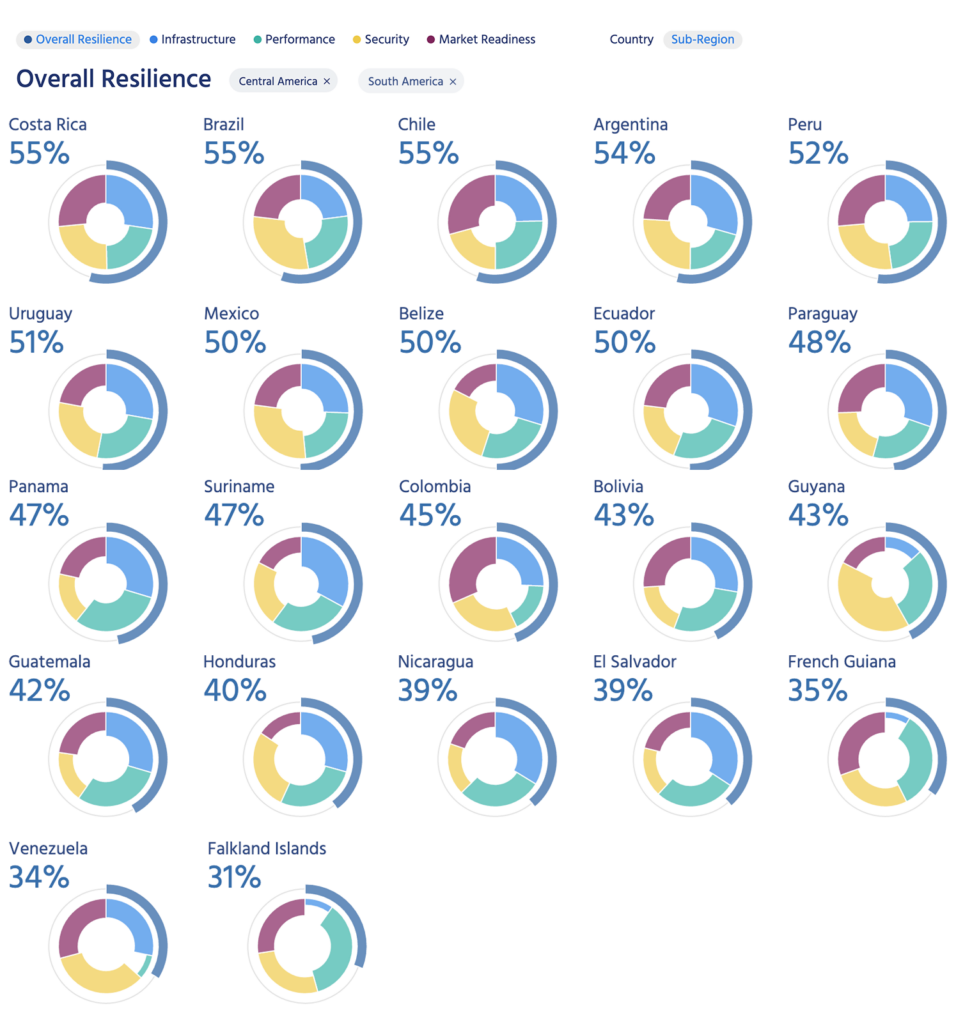 The colors in these donut charts relate to four components (pillars) that contribute to the overall resiliency and smooth operation of the Internet: Infrastructure, Performance, Security, and Market Readiness.
If we plot these pillars against one another for Central America (Figure 3) we can start to see where countries are excelling in their Internet resilience and where they are left wanting.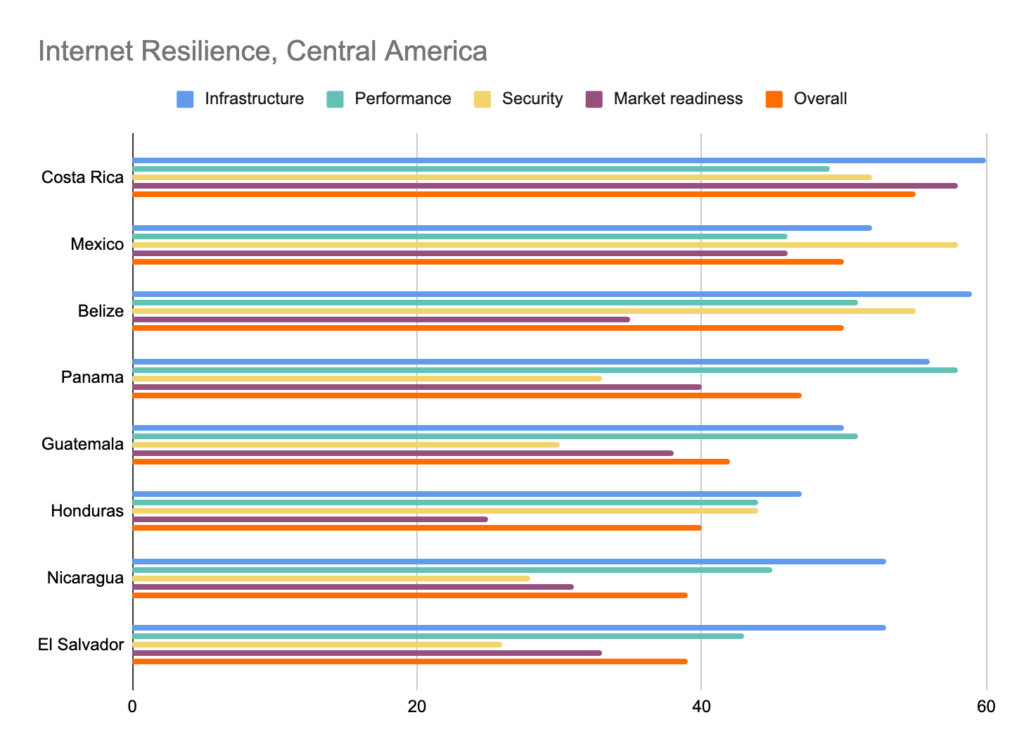 For some countries, there is quite a bit of disparity between these four pillars. For example, El Salvador's Infrastructure score ranks equal to 4th in the region (53%) but its security score (26%) is the worst in the region. Compare this to Costa Rica and Mexico, their scores are relatively similar across the four pillars, which is a common trait among those with resilience scores greater than 50%.
If we zoom into the data points that contribute to Costa Rica's exceptional infrastructure score (60%), we can see that this higher-than-average score is due to several factors, including its:
Mobile Network coverage
Number of data centers and Internet Exchange Points (IXPs)
Power availability — Costa Rica's electric grid is powered by 98% renewable energy.

While its largest neighbor, Mexico, has a lower Infrastructure score (Figure 5), it's worth recognizing it is more than 38 times the land size of Costa Rica and has nearly 23 times more people, meaning there's a lot more effort required to connect the already 101 million Internet users in Mexico.

Having such a large userbase though means that Mexico needs to do more with regards to keeping traffic local, as is represented by its single-digit percentage scores for the number of data centers and IXPs per population.
| | |
| --- | --- |
| | Learn more about the Internet Society's 50/50 Vision to keep at least half of all Internet traffic in emerging economies local by 2025. |
This gap in resilience was highlighted at last month's LACNIC 39 panel discussion, 'Peering and Interconnection Ecosystem in Mexico', during which representatives of companies such as Netflix and Arelion "emphasized the importance of having IXPs in Mexico to encourage knowledge sharing and traffic exchange within the country."
Aside from improving the resilience of a country's Internet infrastructure, IXPs also improve performance, as they create shorter routes for Internet traffic that doesn't need to be sourced from abroad, which improves affordability. Learn more about IXPs.
While Mexico has a respectable 79% score for affordability, its overall performance score of 46% ranks it 5th in Central America with every country above it having a significantly higher percentage of networks (Autonomous Systems, ASes) connecting to IXPs (Table 1).
| Country | Number of active IXPs | Number of networks (ASes) peering with IXPs | Total number of ASes originating in-country |
| --- | --- | --- | --- |
| Belize | 1 | 9 | 19 |
| Costa Rica | 2 | 38 | 49 |
| El Salvador | 1 | 5 | 35 |
| Guatemala | 1 | 14 | 42 |
| Honduras | 1 | 8 | 44 |
| Mexico | 2 | 22 | 299 |
| Nicaragua | 0 | 0 | 19 |
| Panama | 1 | 26 | 38 |
Table 1 — Number of IXPs and networks in each country, Central America. Sources: Packet Clearing House and APNIC Labs.
The Global Internet Resilience Index tool aims to offer these insights and more to help network operators and decision-makers to identify weaknesses in their Internet resilience and make data-driven decisions to address these.
Follow the Pulse Blog and subscribe to the Pulse monthly newsletter for the launch of the Global Internet Resilience Index in July 2023.