Syrian Arab Republic (the)
25 June, 2023 02:00 - 05:30 (3 hours)
Local Impact
Syria has joined Iraq and Algeria in conducting nationwide Internet shutdowns to curb cheating prior to national curriculum exams. The first of the shutdowns happened between 5:00 and 8:30 local time on 25 June 2023 with more expected at the same time over the coming days.
As reported by SMEX, this is not the first time the Syrian government has resorted to Internet shutdowns during national school exams. In May 2018 and August 2020, the authorities implemented the same measure during the secondary school certificate exams period. Similarly, in August 2022, the telecommunications company published a comparable schedule detailing the dates and areas affected by the service interruption. It stated that this procedure is in accordance with "the Ministry of Education's request to ensure the examination process runs smoothly and to counter cyber intrusions and attacks on the secondary certificate exams."
As we have repeatedly written about here on Pulse, Internet shutdowns cause great harm to a country's economy and society and are in our opinion NOT the appropriate mechanism to cope with potential exam cheating.
Data and Analysis
Cloudflare Radar measurements show the shutdown occurred first on 25 June and then on 26 June.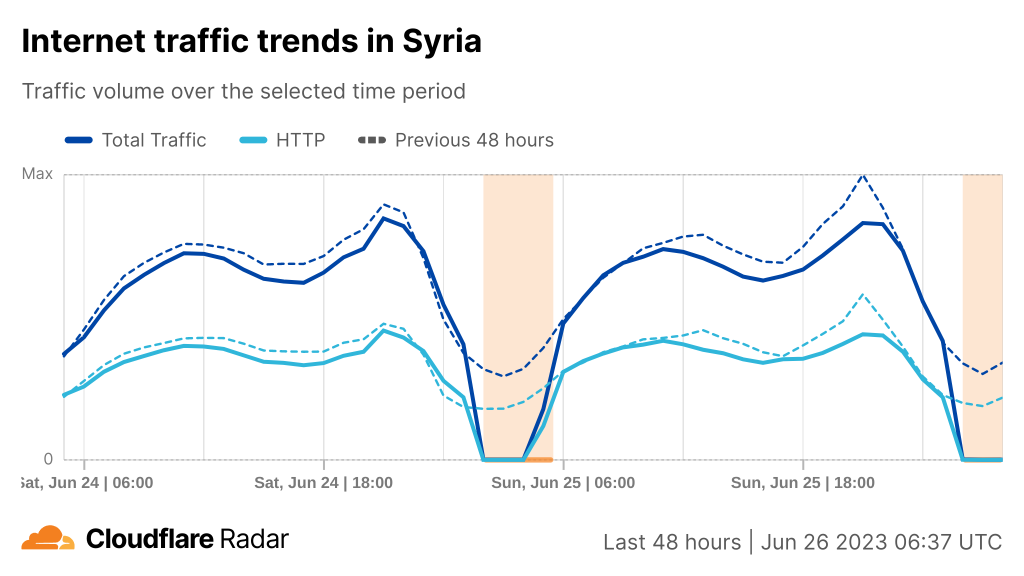 IODA measurements show a steep drop in BGP connectivity from 2:00 to 5:30 UTC on 25 June 2023, indicating the shutdown is affecting Internet connectivity.

Google's Transparency Report shows a slight drop in traffic to YouTube coming from Syria compared to previous days at the same time.
Conversations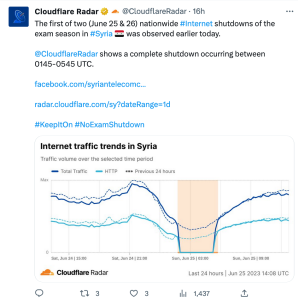 The first of two (June 25 & 26) nationwide #Internet shutdowns of the exam season in #Syria 🇸🇾 was observed earlier today.@CloudflareRadar shows a complete shutdown occurring between 0145-0545 UTC.https://t.co/U5LEzB0J5yhttps://t.co/65MgOjI4UR#KeepItOn #NoExamShutdown pic.twitter.com/9spxQ8Fu86

— Cloudflare Radar (@CloudflareRadar) June 25, 2023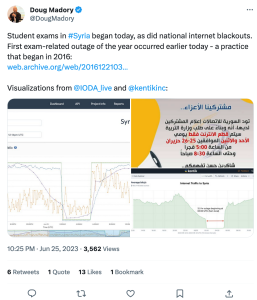 Student exams in #Syria began today, as did national internet blackouts. First exam-related outage of the year occurred earlier today – a practice that began in 2016:https://t.co/oor2dXI3TW

Visualizations from @IODA_live and @kentikinc: pic.twitter.com/atDDEoMiTB

— Doug Madory (@DougMadory) June 25, 2023
Affected Services
Cellular and Fixed Broadband