Algeria
15 June, 2023 06:00 - 16:00 (10 hours)
Local Impact
For the fifth day, and as students sat for Physics and Economics exams, Algeria shut down the Internet for the entire country during high school exams. A news report indicates that there will be two outages each day from 11 June through 15 June, a four hour outage in the morning and a three hour outage in the afternoon.
In analyzing the data, it appears that the Algerian government is engaging in content blocking whereby the actual Internet connections remain active, but the Internet service providers are ordered to block certain sites, including social media networks and messaging sites.
As we have repeatedly written about here on Pulse, Internet shutdowns cause great harm to a country's economy and society and are in our opinion not the appropriate mechanism to cope with potential exam cheating
Data and Analysis
Cloudflare Radar shows the five disruptions to Internet traffic in Algeria.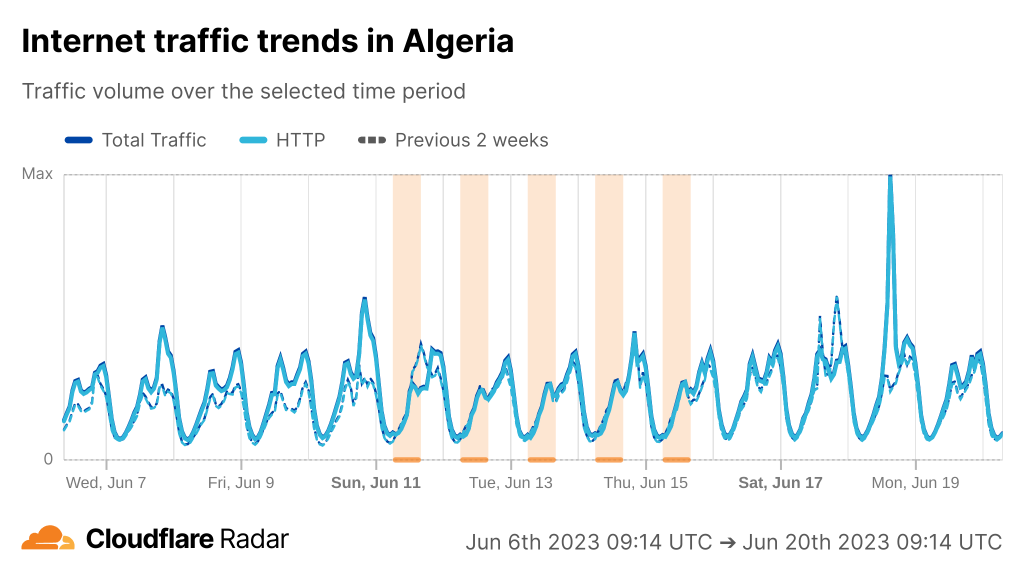 Google's Transparency Report shows a reduction in traffic to Google products from Algeria from 12 to 16 June.