India
28 April - 23 September, 2023 (149 days)
Local Impact
On 28 April, Section 144 was enforced, coupled with a five-day suspension of Internet services in Churachandpur, India.
After violence erupted in the northeast Indian state of Manipur on 3 May, the Indian government deployed the army and ordered an Internet shutdown across eight districts.
The Indian government has issued multiple extensions continuing the Internet shutdown.
On 25 July, the Indian government partially lifted the shutdown when they indicated that fixed broadband connections could be resumed if they complied with strict requirements around static IP addresses for tracking, blocking VPNs, and more. Mobile Internet access continues to be blocked.
On 23 September, the Manipur Chief Minister announced that Internet services will be restored from that day onwards, as reported by India Today.
Experiences
Local news media are reporting shops have closed due to the persistent shutdown.
Cause Documentation
Multiple sites published the text of orders extending the Internet shutdown. One example is of the 5 July extension to 10 July.
Manipur government further extends the ban on internet services in the State till 1500 hours of 10th July 2023. pic.twitter.com/8nOKAmYVAF

— ANI (@ANI) July 5, 2023
On 25 July, the government ordered a partial lift on the shutdown. The requirements in this order effectively denies any method of anonymity in Internet use and keeps the door open for service blocking.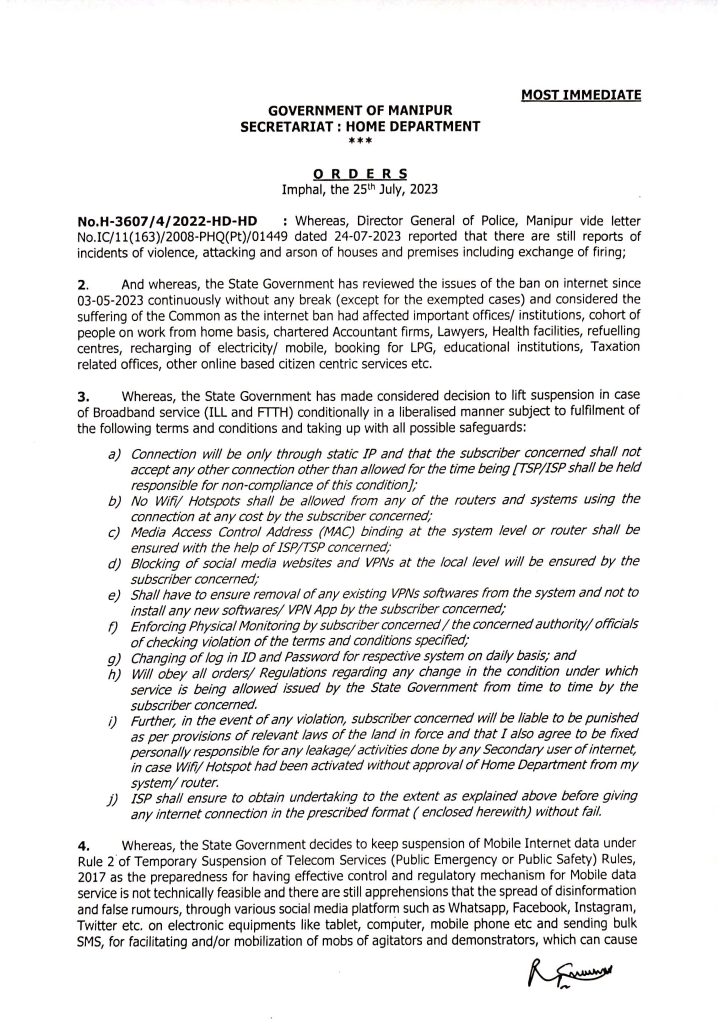 Data and Analysis
It's difficult to measure the effect of local/regional Internet shutdowns as most measurements are done at a country level.
Conversations
15 days since the horrific violence erupted in Manipur and internet was banned.

Yesterday, the ban was extended for another 5 days.

Banking, e-commerce, payments of e-bills, e-tickets, businesses, work from home, education, and many other essential services have come to a…

— Jairam Ramesh (@Jairam_Ramesh) May 18, 2023