Gabon
26 August, 2023 18:00 - 30 August, 2023 07:00 (3 days 13 hours)
Local Impact
Gabon's government ordered a public curfew and for the Internet to be shut down in Gabon following presidential, legislative, and local elections held on Saturday, 26 August 2023.
Communications Minister Rodrigue Mboumba Bissawou said on public television that Internet access was suspended until further notice, noting the curfew and shutdown was ordered to "counter the spread of calls for violence… and false information."
More than 40 civil society organizations issued a statement on 24 August 2023 calling on the government of Gabon to guarantee open and secure Internet access during the elections. The group stated that it is essential that governments adopt and prioritize measures to ensure that the election process is inclusive, free, and fair, by providing voters with unfettered access to information and avenues for free expression, both offline and online.
On 30 August 2023, the military in Gabon seized power and placed the current president under house arrest. After the coup announcement, Internet service began returning across the country.
Experiences
Eyes on Gabon. Presidential elections , President Bongo party announced a curfew and Internet shutdown. The Bongo family has ruled Gabon for 56 years.

— Kirby (@IntelKirby) August 26, 2023
Data and Analysis
The Internet Outage Detection and Analysis (IODA) dashboard showed a significant drop in BGP activity, and as a consequence Google traffic, in Gabon since 26 August around 18:00 UTC and resuming on 30 August around 7:00 UTC.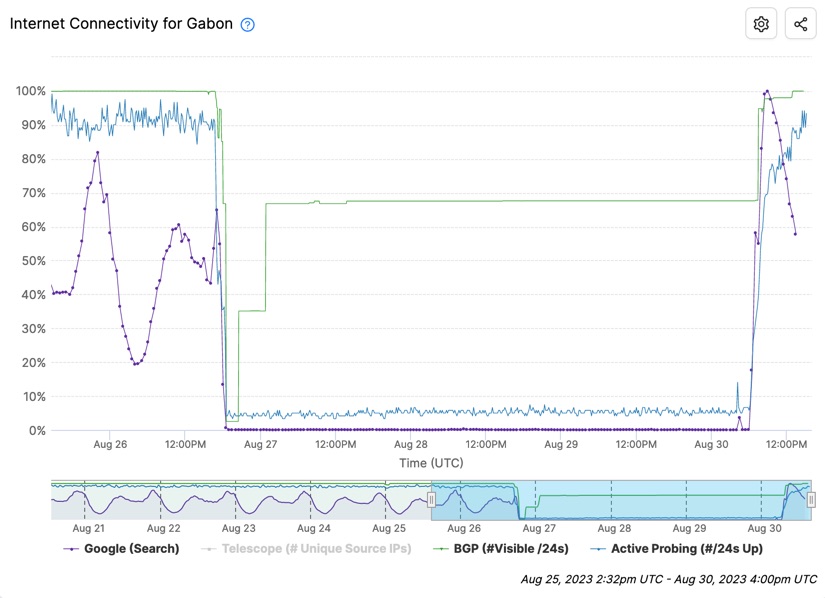 These results are also mirrored by Cloudflare Radar.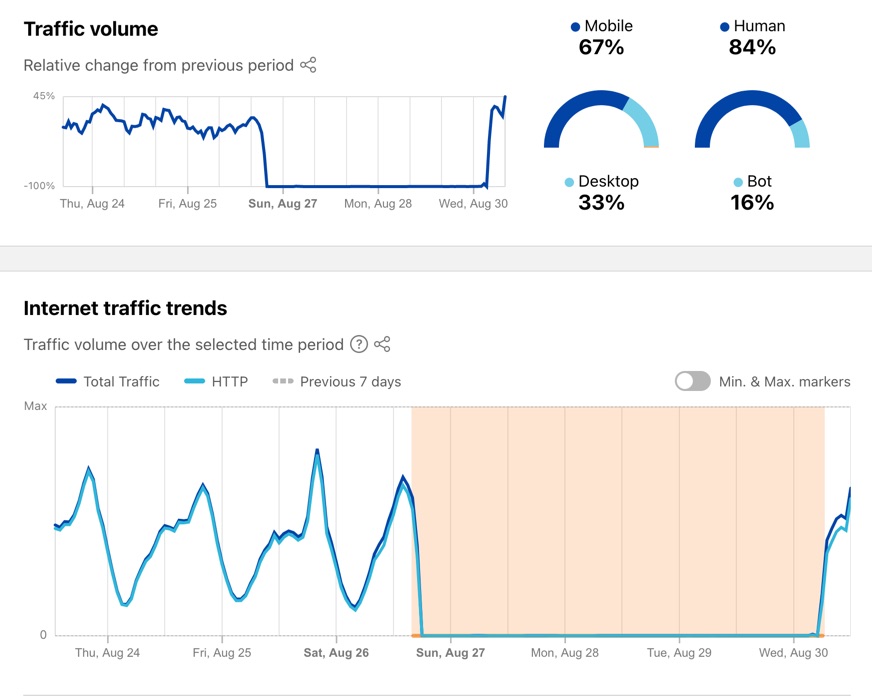 Google's Transparency Report similarly shows the shutdown and return of service: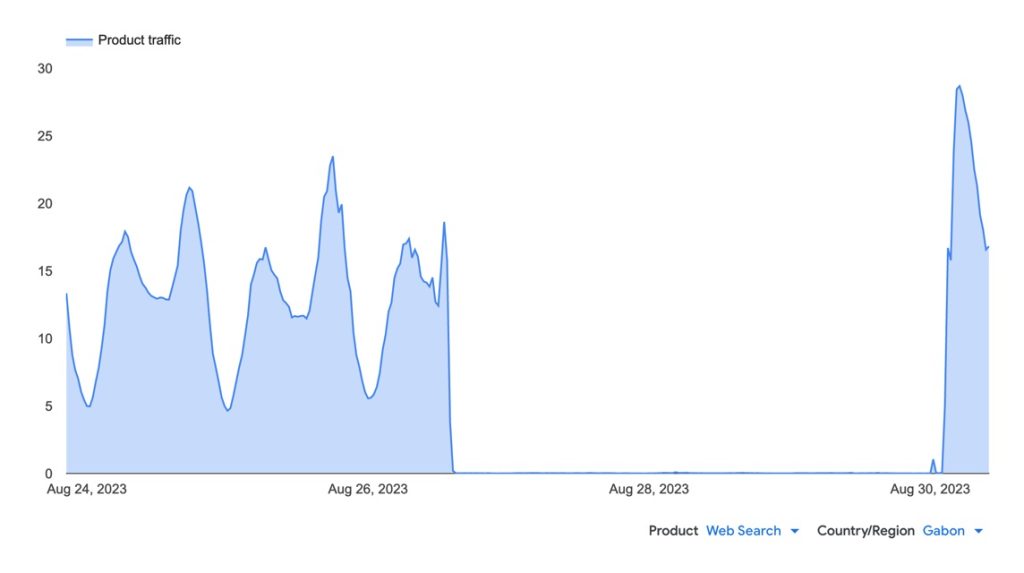 If we look at the top networks in the country, we can see this Internet shutdown had various effects. For example, Gabon Telecom (AS16058), the incumbent and largest ISP in Gabon, Internet connectivity dropped to 0% between 18:30 and 20:30 on 26 August (UTC) and resumed 100% connectivity at 00:50 on 27 August.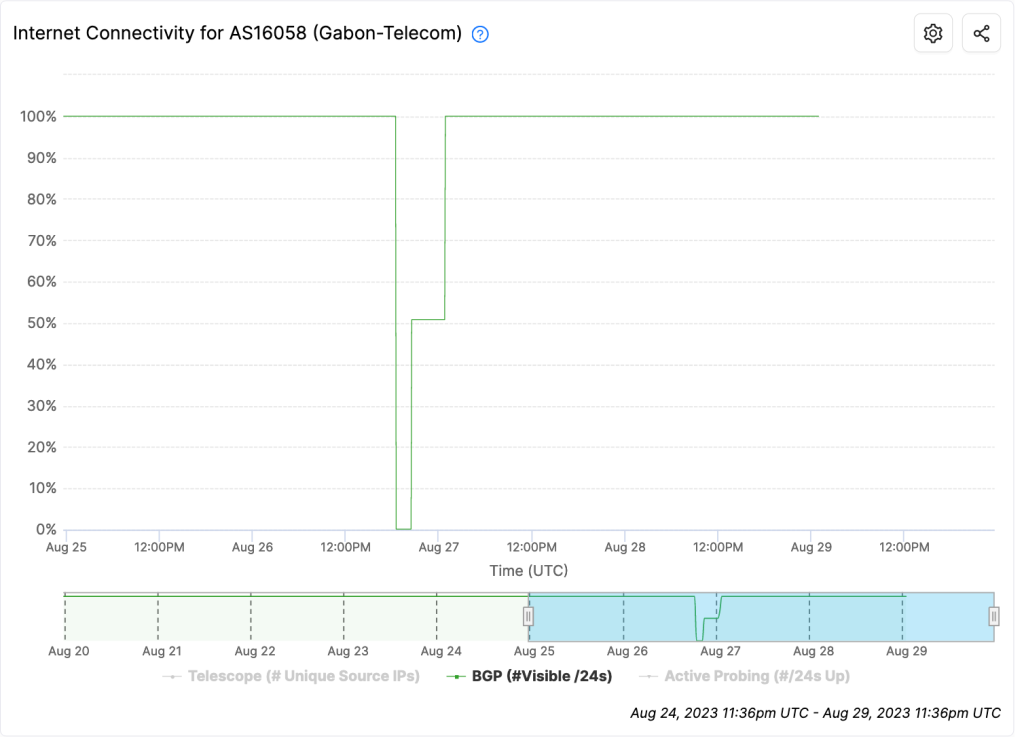 In comparison, two of the next four largest Internet service providers have not transmitted Internet traffic since 17:00-17:45 on 26 August, while GVA Canalbox (AS36924) and Airtel (AS37616), which offer fiber and mobile services respectively to nearly 40% of the country's Internet users, have seen their Internet traffic drop between 20 to nearly 40%. These findings indicate that the shutdown affected both fiber and mobile operations, more so the later given that Gabon Telecom and Airtel are the top two mobile providers in Gabon.