Palestine, State of
7 October, 2023 14:00 (52 days) - active
Local Impact
On 27 October, the last connections to the Internet from Gaza were cut amid heavy bombardment by Israeli warplanes. Media reports began appearing throughout the day indicating that all Internet and telecommunication access had been cut into Gaza. (See articles from BBC, The Verge, NPR, and Aljazeera.) Data from our measurement providers (below) also indicated traffic is no longer flowing into or out of Gaza.
Internet connectivity into Gaza started being limited on the afternoon of October 7th, coinciding with military activities the Israeli forces began following attacks by Hamas militants across the border wall in southern Israel earlier that day. The interruptions to Internet access affected local ISPs in part through cuts to electricity supply or as a result of damage to infrastructure from the bombing.
At 17:00UTC on 27 October, Jawwal, one of two mobile operators in Palestine reported that the last fiber connection to Gaza was destroyed and attributed this to intense bombing as per the translated statement posted to their official social media pages.
Jawwal announced at 03:34UTC on 29 October that telecommunication services (landline, mobile, and internet) in Gaza Strip, were gradually being restored. And that their technical teams are diligently addressing the damage to the internal network infrastructure under challenging conditions. Later, on the dawn of 1 November, the company announced that the connection was cut again. This was followed with few announcement of partial return of service for few hours before it is cut again. On 13 November, Paltel, the incumbent operator and sister company to Jawwal, both under Paltel Group, announced that the another telecommunication blackout is imminent by the 16 November if fuel was not allowed to enter.
Why are there still measurements coming from Gaza?
We look at Internet traffic going in and out of Gaza through multiple observatories, including IODA and Cloudflare Radar. Although the numbers come with high confidence, it is expected to see remnants of connectivity signals, either because a portion of a network may be able to operate momentarily, potentially on solar power, or because artifacts affecting the measurements. The artifacts come as some IP and network resources may be mistakenly recognized as coming from Gaza while they are actually coming from networks operating elsewhere, including in the West Bank.
The measurements continue to show disruption to services on ISPs in Gaza
Cause Documentation
On 23 October 2023, the Israeli Ministry of Communications summarized their activities to date and included this statement:
19. There is an ongoing examination and preparation for the shutting down of cellular communications and Internet services to Gaza.
On 28 October 2023, the Washington Post reported that the United States had pressured Israel to restore communications.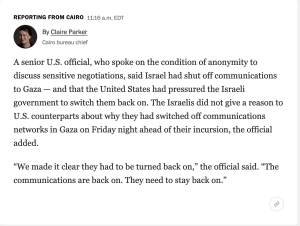 Data and Analysis
IODA
Data from IODA shows the continued drop in connectivity since October 7: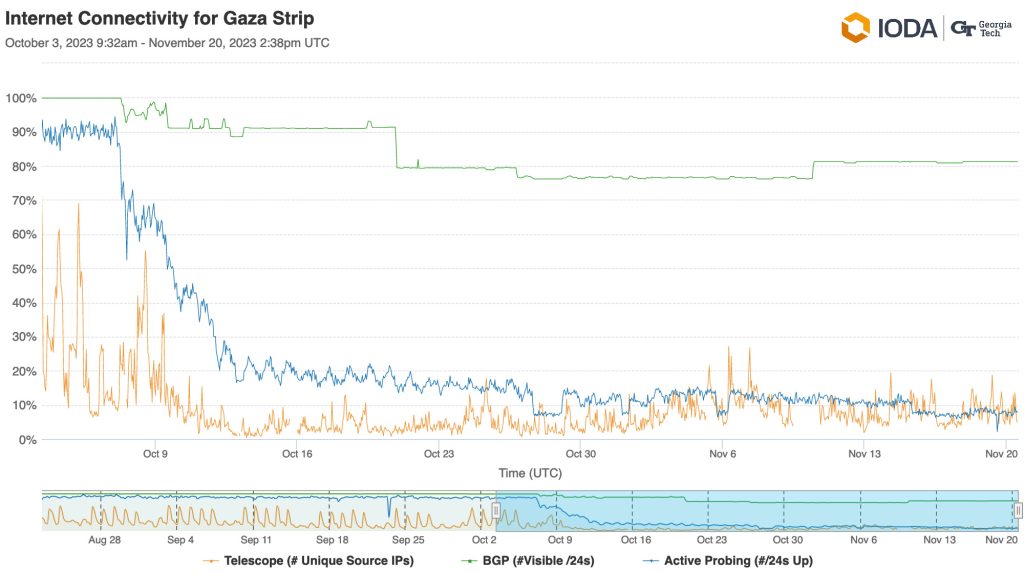 Cloudflare Radar
Data shows that Netstream, one of the last Internet providers into Gaza, has now lost connectivity: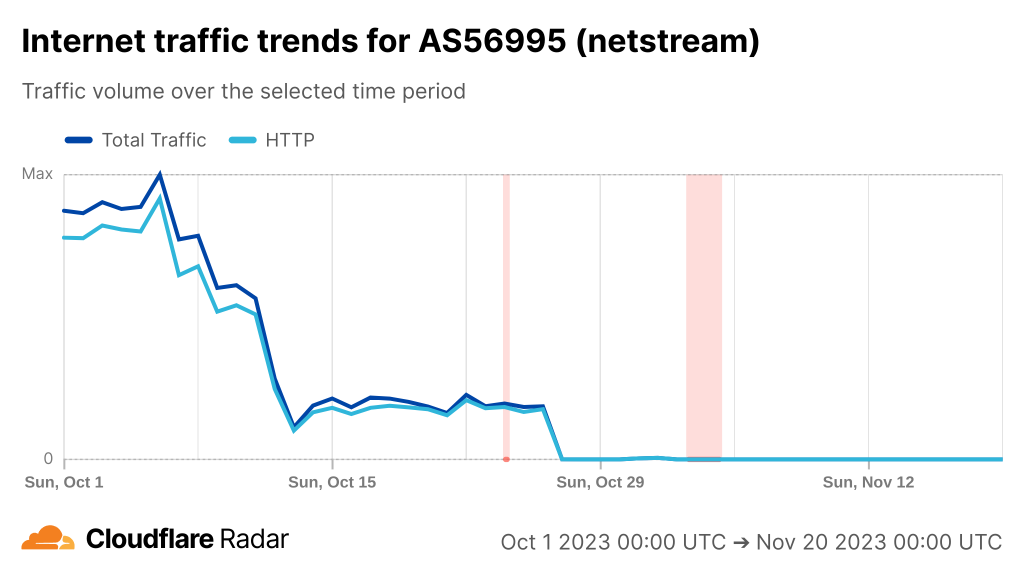 Cloudflare Radar data continues to show that other network operators have been disconnected for much of the past few weeks.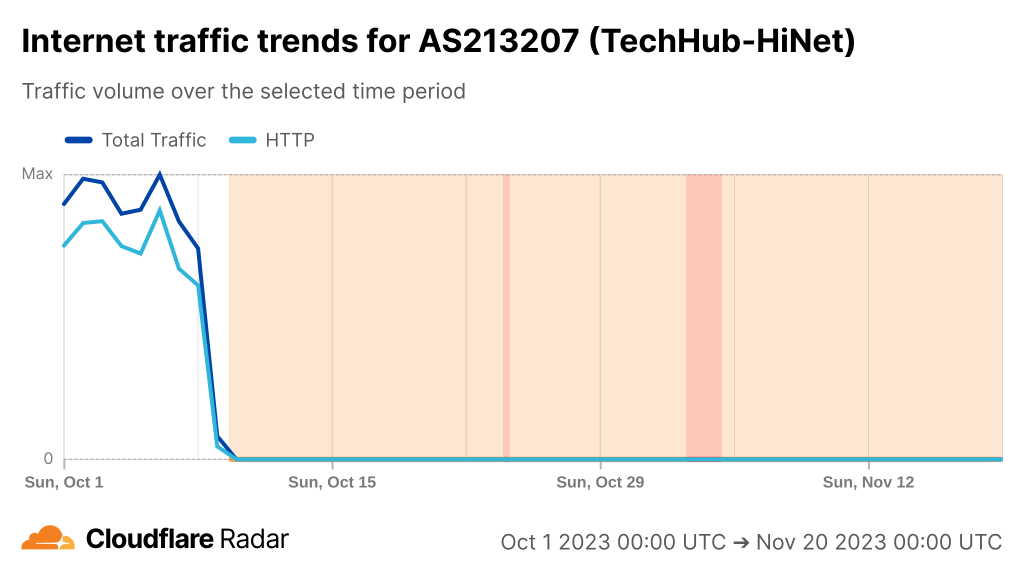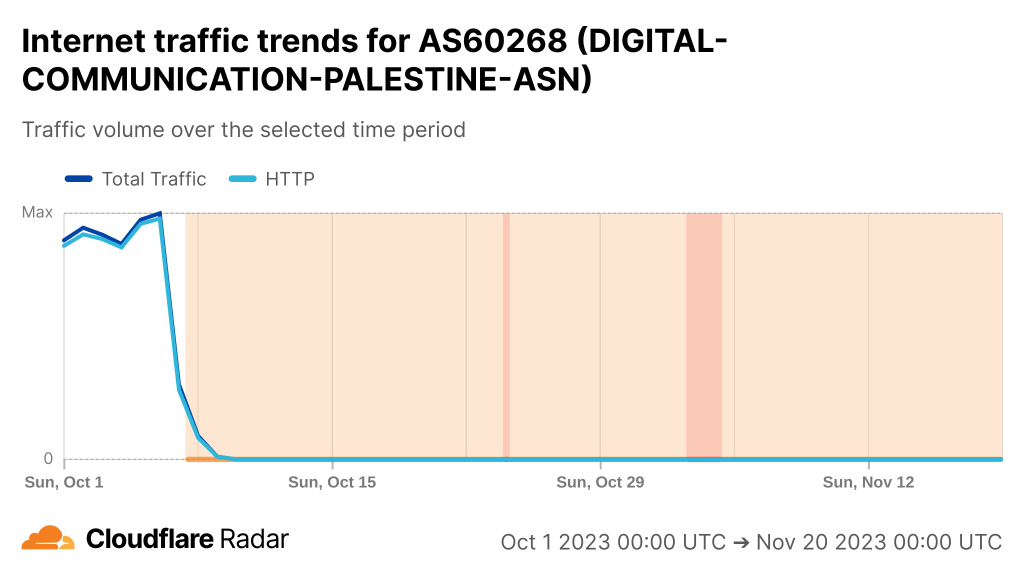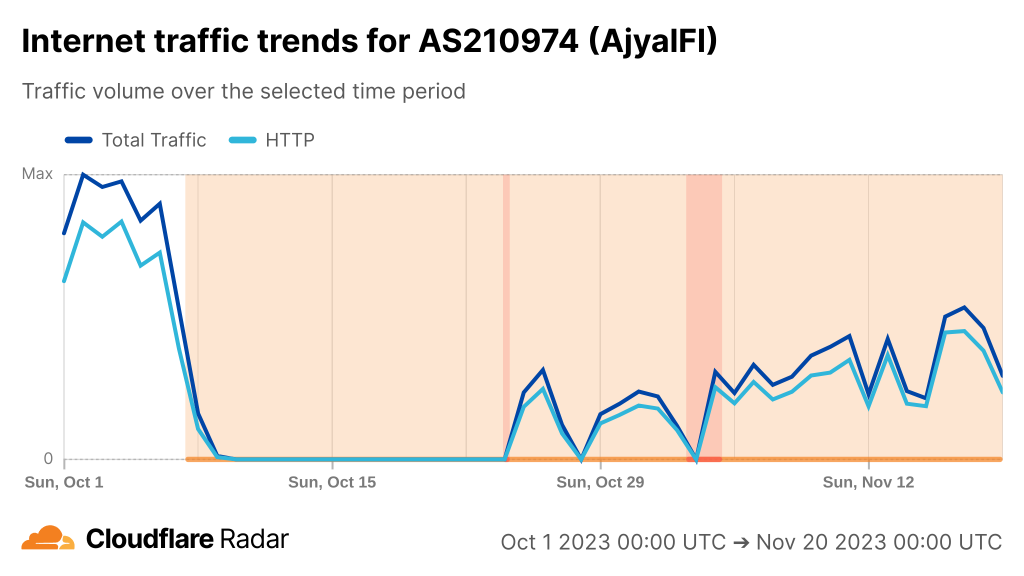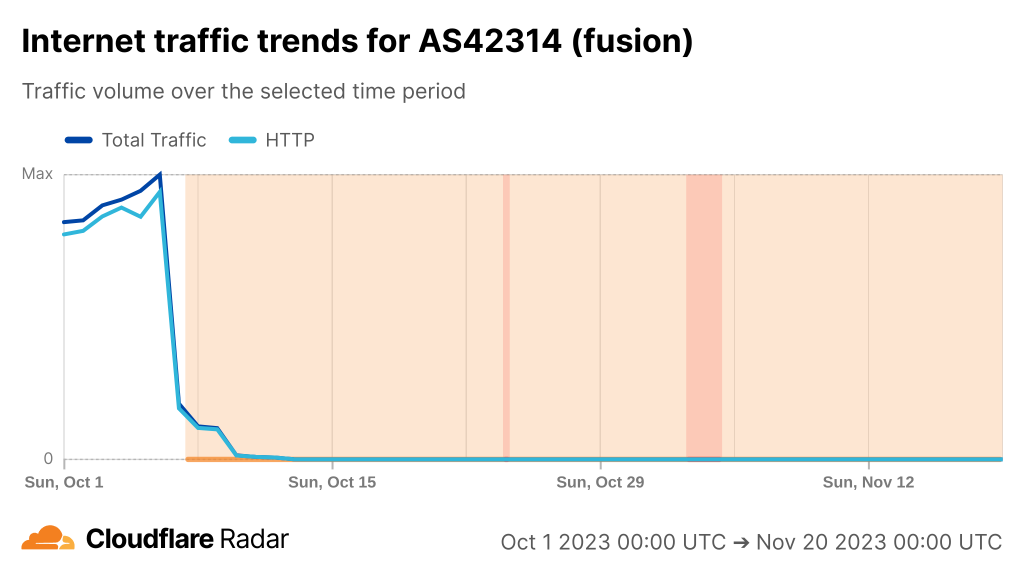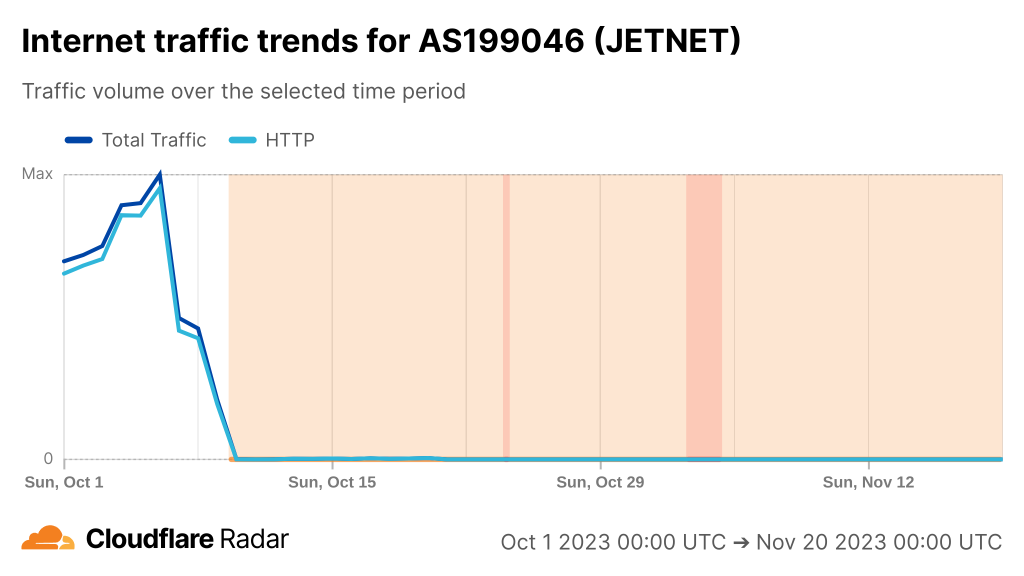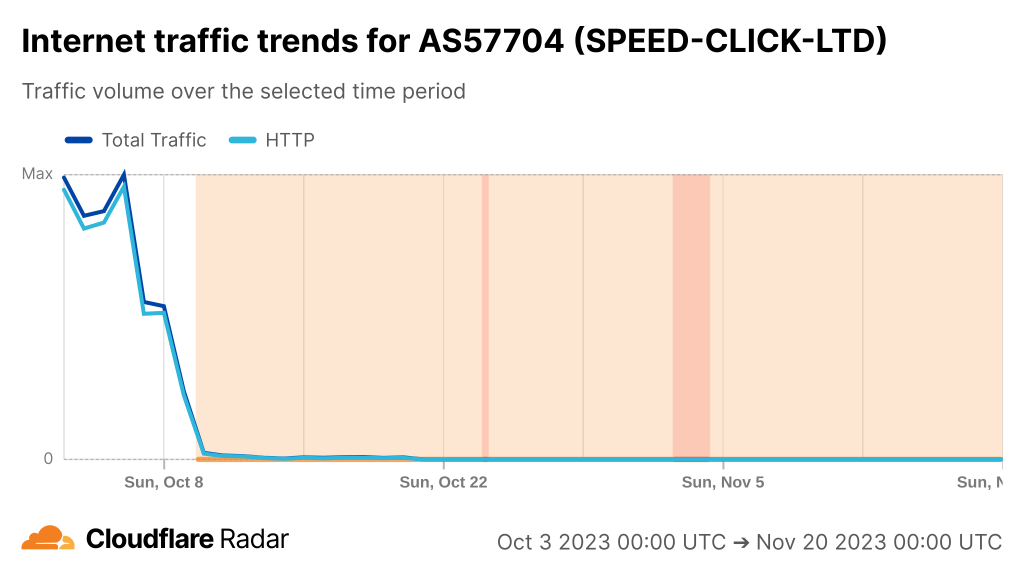 Conversations
October 27 update: #Internet connectivity in #Gaza continues to decline, with Netstream (AS56995) losing connectivity yesterday, and with Internet disuptions evident in several Gaza Strip governorates starting around 1500 UTC today. pic.twitter.com/k3PfeMmG4n

— Cloudflare Radar (@CloudflareRadar) October 27, 2023